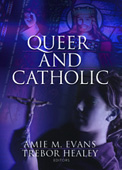 Queer and Catholic
"Don't Sing: Growing Up Lesbian In Catholic School"
How does one reconcile the tension between the community of one's own Catholic upbringing and a sexuality and gender identity that may be in conflict with some of the tenets of the faith – especially when one is a member of the Gay, Lesbian, Bisexual, Transgender, Queer, and Intersex.
Published June 8th 2008 by Routledge

---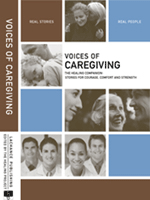 Voices of Caregivers
"Taking Care of Ellie"
Voices of Caregiving: The Healing Companion: Stories for Courage, Comfort and Strength
"Inspiring, supportive, and informative." —Library Journal
With the aging of the "Baby Boomer" generation, over 50 million Americans will soon become caregivers to friends or family members, a role that takes an enormous physical, emotional and spiritual toll on the caregiver. Voices of Caregiving offers the heartfelt stories of lives transformed by the most difficult challenge any person will ever face. With a comprehensive Resources section on where to get help and contributions by top medical authorities on hospice care, complimentary and alternative medicine and practical tips on giving care, Voices of Caregving inspires and informs through the true accounts of people finding their way during a time of great changes in their own lives and in the lives of those around them. The Healing Project is a not-for-profit organization founded in 2005 and dedicated to creating a community of support for those challenged by chronic and life-threatening illnesses.
---
The Call of The Dark
"Jane Doe"
Bella Books, Call Of The Dark (July 2005)
"Jane Doe," is a handsome stone butch dyke, brought into the county morgue one night following a motorcycle accident. During the process, Deputy Coroner, Dr. Mina Caselli and morgue technician, Jenny Anderson are assigned to Jane's case and soon discover that this isn't your typical traffic fatality.
---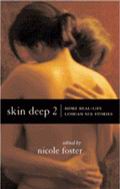 Skin Deep 2
"The Things You Do For Love"
Skin Deep 2, Alyson Publications (May 2004)
"The Things You Do For Love," shows what the power of love and desire can make you do.
---
Awakening The Virgin 2
"Unexpected Pleasures"
Awakening The Virgin 2, Alyson Publications (December 2003)
"Unexpected Pleasures," are set in motion when a trip to the ladies room at a wedding reception result in a night to remember for Mina. During that short time, Mina meets up with one of her ex-husbands colleagues wives who is eager to experience 'life on the other side.'
---
My Lover, My Friend
"Summer, 1985, The First Time"
My Lover, My Friend, Alyson Publications (June 2003)
"Summer 1985, The First Time" depicts the wonder and magic of "that first time. "The story is set in a small town in Northeastern Ohio, where alternative lifestyles are not viewed as an honorable way of life. Although the two women became friends first, the unmistakable mutual attraction drew them to a place neither had been before.