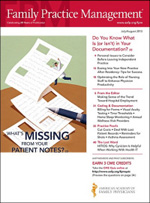 Title: Getting Paid: Why Every Practice Needs A Payment Policy — April 2004
Payment policy essentials!
Why patients don't pay!
Putting your expectations in writing helps encourage patients to pay at the time of service! How many times have patients come to your office, received quality medical care, including an armload of free medication samples, and left without paying a dime? Probably more times than you'd like to recall. Getting patients to pay at the time of service is vital in an industry where the cost of doing business practically doubles each year, but putting a price on caring makes almost everyone uncomfortable.
---
Title: Getting Paid, Dealing With Patients That Don't Pay — May 2002
When patients don't want to make their co-pays!
When patients say they can't pay!
When patients want two visits for the price of one!
When patients get angry!
When enough is enough!Put policies in writing!
You can give your staff strategies for effectively enforcing your practice's payment policies.
Asking for and collecting money from patients is among the most difficult aspects of practice management, and the current economic downturn makes this task even more challenging. The way your office staff handles payment problems with patients reflects on your entire practice, and the outcome can have a significant effect on your staff's satisfaction and your bottom line. Here are a few tips for helping your staff manage difficult situations...
---
Title: Getting Paid, Eleven Tips For Better Billing — March 2002
Keep cash flowing with these easy-to-implement strategies.
With all the obstacles to reimbursement that managed care creates, your practice's cash may be flowing at the velocity of water in a clogged drain. In our experience and that of other practices I know of, only about 70 percent of claims submitted are processed and paid on the first submission. That means an astounding 30 percent are unprocessed or returned unpaid...
---
Title: Revenue Up, Expenses Down: Our NP Is Paying Off — 2004
This brother and sister team added an Nurse Practioner to their practice and boosted their bottom line.