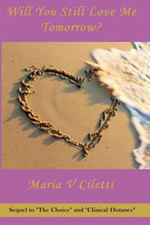 October 2012
Title: Will You Still Love Me Tomorrow
Publisher: Intaglio Publications
Genre: Romance
ISBN: 978-1935216414
Even though the emergency room is the place people end up on one of the worst days of their lives., it certainly can be one of the most interesting places.

Dr. Mina Caselli has been the chief of emergency medicine at City Hospital for 15 years. She thought she had seen and heard just about everything, until she meets up with an attractive young medical student, who hauntingly reminds her of someone in her past who she is trying to forget.

In the sequel to The Choice and Clinical Distance, Will You Still Love Me Tomorrow? picks up fifteen years into Mina Caselli and Rosemary Rosetti's relationship. Their busy careers as an ER physician and police detective make their lives exciting, but the stress and long hours of their jobs have taken a big toll on their love life. The fact that Rosetti has entered early menopause kicking and screaming isn't helping matters, either. Can their relationship survive? Will Mina and Rosetti succumb to the temptations and pressures of their demanding careers or will love keep them together?
---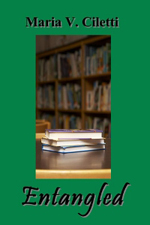 September 2011
Title: Entangled
Publisher: Intaglio Publications
Genre: Romance
ISBN: 978-1935216339
Hayden Crissman is a very responsible girl and has done all the right things to get accepted into a prestigious university in Erie, Pennsylvania, with the help of her English teacher Abbey Spencer, whom she idolizes.
When their paths cross again after graduation, Hayden sees another side of her favorite teacher and witnesses a deeply personal, more vulnerable woman.
What ensues will test both women's sense of propriety, logic, and love.
---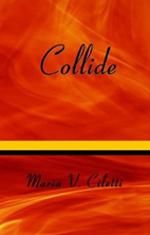 April 2010
Title: Collide
Publisher: Intaglio Publications
Genre: Romance
ISBN: 978-1-935216-14-8
Sometimes you have to shed the identity of who you think you should be to live your true life. Sometimes that identity gets ripped right out from under you.
Renee Cardone and Anna Maria Castrovinci had been best friends since kindergarten at St. Vincent's School, but when they were fifteen, their friendship turned into something more. Even though their attraction felt genuine and pure, guilt hovered over them. Although Renee loved Annie, she was afraid about the unnatural relationship, according to her Catholic upbringing, that she and Annie had fallen into.
Annie, intent on living a life acceptable to society, began to date Tom Del Fino, which broke Annie's heart. Renee tried to explain that what they had together was nice, but it wasn't real. She knew Tom could give her what she needed.
Renee and Tom married and built a respectable life together. They had a good marriage and two beautiful daughters. Then fate slapped them in the face and flipped Renee's life upside down. That's when she met Dana Renato.
Dana had it all. A lucrative career as a writer, a home she loved and a partner she adored. Then all of it came crashing down around her. She loses her partner to breast cancer, and the home they shared is threatened by her partner's estranged family. The only thing she has left is her writing, which takes her away from home and puts her in a small town in Northeast Ohio. There she meets Renee and their lives collide.
---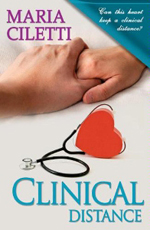 May 2009
Title: Clinical Distance
Publisher: Intaglio Publications
Genre: Romance
ISBN 978-1-935216-03-2

In the sequel to The Choice, Clinical Distance begins six years later with Mina Thomas, who has finished medical school. After divorcing her husband, Sean, and losing Regan Martin, the love of her life, Mina sets out on a quest to make her way in the world and to find the love she lost. Mina dates—a lot—but after many meaningless rendezvous with nameless women, Mina decides to give up on finding love and devotes her time solely to her career as chief resident at City Hospital.
However, one night after having dinner with her best friend and confidant, police Sergeant Rosemary Rosetti, Mina discovers that the love she was searching for might possibly have been right under her nose all along. That's when Regan steps back into Mina's life.
Will Mina sacrifice her heart for another chance at love, or will she keep a clinical distance?
---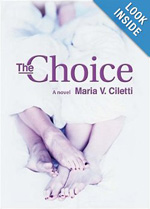 May 2007
Title: The Choice
Publisher: Haworth/Harrington Park Press
Genre: Romance
ISBN 978-1560236382
What if you had to make the choice between losing everything or being true to yourself? The Choice explores the difficult struggle Mina Thomas, a nurse with a loving husband and a successful career, endures after meeting Regan Martin, an attractive nurse she is assigned to mentor. Long-buried desires are awakened within Mina, pushing her toward the need to make the choice that, in one way or another, will forever change her world.
Mina's life is comfortable and successful, though unfulfilling. She and her loving husband contemplate having a child to help build a happy family. Regan enters her life, beautiful, intelligent—and incredibly desirable. Mina must somehow work through her own feelings to discover who she is inside, and the choice she finds herself faced with threatens all she knows and has worked for. The Choice is a novel of love and loss—and surviving the tough journey one must take to be true to herself.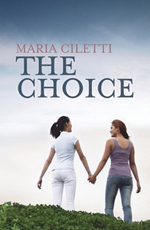 RE-RELEASED
Title: The Choice
Publisher: CreateSpace Independent Publishing
Genre: Romance
ISBN 978-1481240963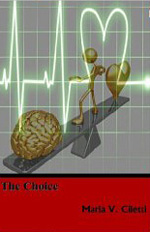 E-BOOK
June 2010
Title: The Choice
Publisher: Intaglio Publications
Genre: Romance
ASIN: B005BJTK3S