Will You Still Love Me Tomorrow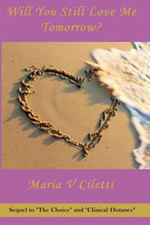 I had no idea how much I would love this book when I started reading. I opened the book and then I had a hard time putting it down! I love the ER scenes and I loved reading about Tess and her reaction to watching the patient be treated. I had a similar reaction my first time in the OR! I did not read the first two books, but I didnt feel like I was lacking anything. I didnt want the book to end because it was so much fun to read!
Reviewed by Nicole – Goodreads, November 13, 2012
---
When I first got this book I was a bit sceptical on whether I would like it or not. I have to say though that it is very well written. I liked the store line and the characters. You felt like you were right there with them. Everything seemed to come together and the book ended really well. I was pleasantly surprised to find I really did enjoy reading the book.
Reviewed by Delilah – Goodreads, Nov. 10, 2012
---
This is a very informative novel. It goes from fast paced to slow and steady, but it's never dull. It's much like real life. It is also very well written. The author put a great deal of time and effort into the storyline and editing of the novel. The story itself is very solid and intriguing story. She goes into great detail with her descriptions, ensuring that her readers can picture everything and everyone that she puts to paper.

The characters in this novel were very well developed. You get to know them intimately and superficially. I like that the main characters in this novel are a middle aged couple. They are normal, everyday individuals. However, a couple of the characters in this novel really grated on my nerves. I found the novel hard to get deep into since I developed such a strong dislike for one of the main characters.

Life is in the details, and that's one thing that this book has in abundance, details. The author laid everything out clearly so that as a reader, you were never guessing.

Please note that I won this book through Goodreads First Reads program.
Reviewed by Jonel Boyko – Good Reads, May 30, 2013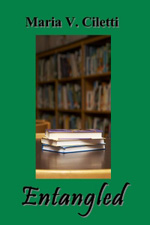 Entangled
Because of the first review, I almost didn't read this book. I'm very glad I did. I found this story captivating and couldn't put it down until I finished it. It goes to show you that what appears to be harmless can take a really bad turn. An excellent read.
Reviewed by S. Rice (Wausau, WI) – Amazon
---
Ciletti has outdone herself--her previous books were great, but this book is over the top. Ms. Ciletti just continues to write better -- can't wait for a sequel!
Reviewed by KJan (Erie, PA) – Amazon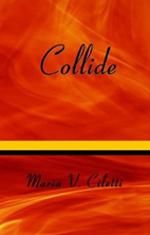 Collide
Collide is Renee Cardone's story of self discovery. After her husband's death from cancer, Renee is left a widow with two teen aged daughters. She finds comfort in the routine of her job at the local library. It is at the library that she meets Dana Renato, a writer doing research for her latest book. What follows is the story of their blossoming friendship, her daughters, and their life in Niles, Ohio. Ciletti has done an excellent job of showing Renee's challenges as she adapts to becoming a single parent, copes with loneliness after losing her husband, and handles the perceived expectations of her family and upbringing. In many ways, Collide is an adult "coming out" story, told with humor, and the twists and turns that life brings. It's warm, real, and its characters could easily be women we all know.
Reviewed by R Lynne
---
Couldn't put this down. Renee and Annie were friends since kindergarten. When they reach their teens, they realize they feel more for each other than just being friends. Renee can't believe she could be gay and thinks it is just a phase she is going through. She starts dating Tom and then marries him. Annie's heart is broken. Renee and Tom have a good marriage until a fatal illness takes it all away. Renee's life will never be the same again as she tries to come to terms with how her life turned out and how it could have turned out. This is another brilliant book from Maria. As with her previous books, I couldn't put it down until the last page had been read.
Reviewed by TerryB – Amazon
Clinical Distance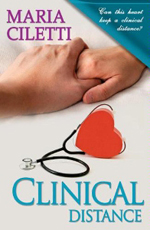 Clinical Distance catches us up on Mina Thomas' life several years after The Choice. Thomas has divorced her husband, become a doctor, and tried to expunge the memory of her former lover, Regan Martin, from her life. To her credit, she's managed to keep up her friendship with police officer, Rosemary Rosetti, and her ex-husband, Sean. However, her relationship with women has left a lot to be desired. The women she dates don't even know her real name, she never repeats a date, and she experiences a general feeling of dissatisfaction that comes with flitting from one sexual encounter to another. All this forces Mina to begin looking at her life and to re-evaluate how she relates to her friend, Rosetti, and her family.

In a lighthearted moment, Ciletti gives us respite from a difficult, emotional plot line in the story, with a roll-reversed scene between Mina and her mother, who has gotten herself into a bit of a tight spot with a man in a motel room. The scene is well-placed to give the reader a breather—and a good chuckle.

As the story continues, Mina is challenged to take a look at all of her relationships, especially when Regan unexpectedly turns up in Mina's life again, throwing her into deep turmoil. Meanwhile, Rosetti, who is forced to deal with her own difficulties in this tale, stands by her, trying to get her to see what is most important in her life, trying to get her to see that clinical distance is not always required, nor is it preferred, especially in matters of the heart.
Ciletti has given us another installment in Mina's life that is compelling and filled with contradiction. In the previous installment, we felt Mina's raw emotion as she came to grips with her lesbianism and fell passionately in love with Regan. This time, Mina must face more much more complex issues. It's time to grow up and make mature decisions that will sustain Dr. Mina Thomas for a lifetime. The reader will, once again, root for her to do the right thing and go boldly into the rest of her life. Clinical Distance gets deeply into your bones. Touching scenes linger.

Reviewed by Anna Furtado
---
An interesting read about a lesbian doctor and her love life. Not really the kind of books I normally read (I'm a paranormal Sci-fi junkie), but well written. I know I'm doing this backwards, but I'll have to read the first book now!
The Choice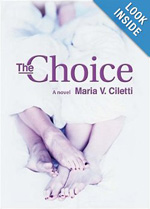 The author, via her main character, gives a heart-wrenching perspective of what it would be like to have to choose between the desires of the heart and the "normalcy" that society at large would like everyone to fit into. A good read.
Reviewed by Carmen – Goodreads, August 01, 2013
---
I enjoyed The Choice by Maria Ciletti, I found the book well written and easy to read. I particularly loved reading about the characters in the nursing home. I have added the two other books in the series to my want to read shelf.
Reviewed by Jane Steward – Goodreads, July 04, 2013
---
I found this book interesting because I'm from the area where the writer lives and where the story is set. I left immediately after I graduated from college because of the conservatism of the area and I felt that I could never have a happy life there. It's interesting to see another point of view.
Reviewed by JoAnna – Goodreads, June 04, 2013

Kate Sweeney, Vice President—Intaglio Publications
This month's Interview with the Author will be with Maria V. Ciletti, author of Clinical Distance, which was released in May. KATE: First, Maria, let me thank you for participating. We're going to interview all the Intaglio authors and get the word out. Okay, before I start rambling…here we go! To start off, please tell us about yourself. MARIA: I'm a registered nurse. I worked five years in a nursing home and five years in a hospital on a surgical floor where we took care of urology and neurosurgical patients. I've been working as a medical administrator for 17 years with my brother who is a family practice physician. I am the oldest of three children. I am of Italian descent and lived in
Niles , Ohio , my entire life. I met my partner, Rose, at an LPGA event in 1999, and we have been together ever since.
KATE: A nurse, eh? Well, I got this pain… Oh, later. So where do you get your inspiration/ideas for your stories?
MARIA: A lot of it comes from real life, especially my medical background. My first book, The Choice, was set in a nursing home. I have to say working in the nursing home was my favorite job. I felt like I really made a difference there. It was very rewarding and I learned a lot about nursing and about life in general.
KATE: That is wonderful, Maria. Now that we know where you get some ideas, how long have you been writing? Do you write only fiction?
MARIA: I've been writing since I was a kid. I remember getting a portable Royal typewriter for my 10th birthday. It was the greatest gift. I used to write stories on that thing until the ribbons wore out. I've been writing seriously since 1996. I joined a writer's workshop at The Little Professor Books in Youngstown . The workshop was two hours one Saturday a month, but, boy, did we learn the essentials of what it took to be a writer.
The workshop was taught by two authors, Susan Dexter and JoAnna Cassidy. They were a tremendous help in putting me on the right track. I got my first short story published in 2000. I not only write fiction, I also write non-fiction medical articles, some of which were published in Medical Economics (2003) and Family Practice Magazine (2000, 2001, 2002, 2004). I also had an article published in Ohio State Medical Journal (1999) on vaccines and how the insurance companies find ways not to pay for them. A short story I am very fond of, "Taking Care of Ellie," was published by La Chance Publishing, which is a nonprofit organization that deals with diseases like Alzheimer's, cancer, and autism. My story was published in its Voices of Caregiving Anthology, which came out in 2008. That story was based on the opportunity I had to care for my aunt who was dying from breast cancer. It stands out because during that journey, I noticed that most of the other caregivers were gay and lesbian, as well.
KATE: Um, you're showing your age with the typewriter sentence, but anyway, what do you do to get rid of writer's block?
MARIA: I walk. I usually walk two miles each morning. This seems to clear my head. When walking doesn't help, I just sit down and write. Even if it's crap, it's still something, and when I go back over it the next day, it wasn't as bad as I thought.
KATE: I ask this question all the time…Do you use an outline for a story or are you unorganized like me?
MARIA: I am very unorganized, although I am working on that. I write stuff down, then try to organize it, but most of the time, it doesn't work. Although I think working from an outline might be easier, it just isn't me. I recently got an iPhone, and it has a wonderful program for keeping notes in it. I use that a lot and it seems to be helping with my organizational skills.
KATE: I'm glad you're working on it, Maria. I know how you feel. Hey, any favorite authors?
MARIA: Jodi Piccoult, I would say is my favorite right now. I love the controversial topics she takes on. I also like Christopher Rice, Anita Schreve, Rita Mae Brown, and Patricia Highsmith. When I'm in the mood for a mystery, Les Roberts, and of course, Kate Sweeney. I am currently reading Along for the Ride by Sarah Dessen, which I am finding to be a very good summer read.
KATE: Kate Sweeney? Who's she? Do you need a certain atmosphere in which to write? Mornings, evenings…?
MARIA: I usually write in the early mornings. I get up with Rose, who is a police sergeant, at 5 a.m. Once she goes off to work at 6, I go over my writing from the previous day. I can usually get in a solid hour or so before I eat breakfast, go for my walk, then get ready for work. Lately, I've been taking my laptop to work, and I write on my lunch hour in my car. I like to drive to a different place for a change in atmosphere.
KATE: Since you've written a romance, will you write any other genres?
MARIA: I have always enjoyed reading romance, so I guess that's why I'm drawn to writing them. I'd like to try my hand someday at mystery, though.
KATE: And finally, what do you do for recreation? Where's your favorite vacation spot?
MARIA: Rose and I just returned from a wonderful vacation in Rehoboth Beach with eight of our closest friends. It was so relaxing there, beautiful beaches, shops, and millions of places to eat. I was also able to do a book signing for Clinical Distance at Lambda Rising Book Store on Baltimore Avenue . Jocque, the manager there, was a great host. It's a wonderful bookstore, and I suggest anyone who has the chance to go to Rehoboth, stop in. Rose and I also like Las Vegas and P-town. My very first book signing was in Las Vegas . It was really cool. For recreation, I like to walk, Rollerblade, or bike. We put a pool in the backyard a few years ago for our nieces and nephew to come over and enjoy. So it seems like every weekend at our house is a party when they are around.
KATE: Great talking with you, Maria. I'm sure the fans got a little more insight as to what makes Maria Ciletti tick!
So who's up next? Drop us a line and let us know who you'd like to hear from. Until next time, thanks for reading~~
---

www.justaboutwrite.com/reviews